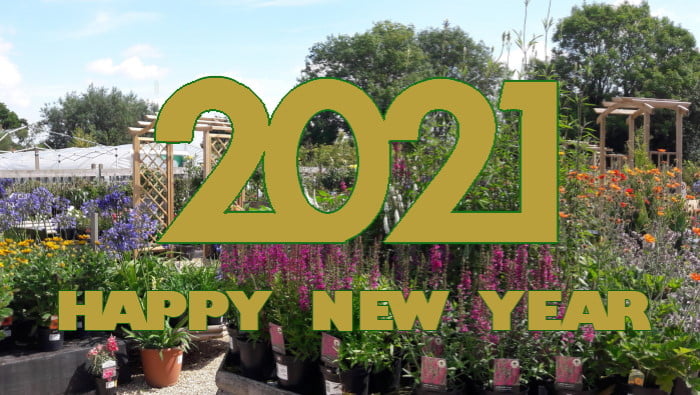 The Nursery Garden Centre wishes all our customers and friends a very Happy New Year. As you pursue your hopes and dreams, may 2021 bring you much success and may your journey be wonderful.
Christmas Tree Recycling
Don't forget that we provide a FREE facility, and encourage you to use it, to recycle your cut Christmas trees. The trees are ground up to form wood chip which we use around The Nursery. This is a FREE service, but we do request that you make a generous donation to Dorothy House Hospice Care, the charity that we raise funds for throughout the year.
Opening Times
As from Saturday 2nd January, our opening times are as normal
Clearly the news on 30th December regarding Wiltshire moving to Tiers 3 and our neighbours in Swindon to Tier 4 is far from good. Thankfully under legislation of 20th December, garden centres are considered as 'Businesses allowed to remain open' (see Part 2, Sec 17, u) in all tiers (including those in Tier 4) and as such we are here to support you as best we can and offer a friendly atmosphere if you need to escape the confines of your own home for a little while.
Clearly we endorse the 'Stay at home' policy, but we also recognise the need to look after our physical & mental health and getting out in the garden with fresh air and exercise has got to be a good thing, hasn't it? 
Café
Unfortunately the Café will not be re-opening for a few weeks as a result of Tier 3 rules for food outlets.
Exciting times ahead
Throughout 2021 we will continue to hugely increase the range and volume of our Herbaceous, Trees, Shrubs, Roses, Bedding Plants, Annuals, Perennials, Compost, Pots & Planters, Garden Tools, Equipment and all things to make your garden look beautiful and flourish. And of course the Café will be back soon (we hope) to provide a ray of sunshine in these torrid times with the excellent food created by Becky and served in the new timber cabin style covered area.
We have some exciting plans for the coming year so do pop along and see us as often as you can. Meanwhile, please stay healthy in these difficult times.
All the very best for 2021
Matthew and The Nursery Team